N-8000 Series greatly enhances its performance.
23-Oct-2009
More stations connectable. More functions programmable.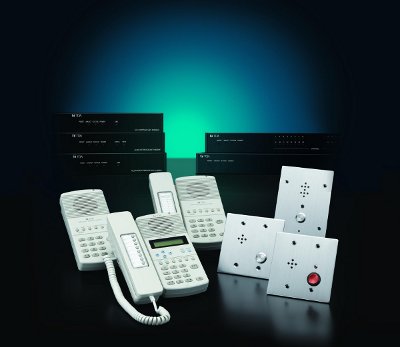 The N-8000 Series is an IP network-compatible intercom system that employs packet audio technology(*1). By linking to an existing local network (LAN), wide-area network (WAN) or optical fiber network, it is possible to construct an optimal system for in-house or wide-area information communication.
The system supports duplex conversation, paging, BGM broadcasting, Emergency call and many more.
Highly integrated system can be configured!!
(*1) Technology that uses IP networks to enable transmission of high-quality voice and music in real time.


SYSTEM FEATURES
Up to 192 IP-based units connectable to LAN
Up to 3.072 stations in a system
Maximum 192 paging zones
Server-less system configuration
Enhanced school functions : Time signal function
A wide variety of stations
External audio source distribution
Kinds of paging function : Group paging, selective paging, all-call paging, emergency all-group paging.
Capability to make and receive calls to and from the outside telephone line
Scan monitoring function
Priority function
Audio trigger function
LINEUP
N-8000EX IP Network Intercom Exchange
N-8010EX IP Network Intercom Exchange
N-8000MI Multi-interface Unit
N-8000RS Substation Interface Unit New!
N-8000AF Audio Interface Unit New!
N-8000AL Telephone Interface Unit New!
N-8000CO C/O Interface Unit New!
N-8000DI Direct Select Unit New!
N-8500MS IP Multifunctional Master Station
N-8540DS IP Door Station
N-8000MS Multifunctional Master Station
N-8010MS Standard Master Station
N-8011MS Standard Hands-Free Master Station
N-8020MS Industrial-Use Master Station
N-8031MS Flush-Mount Hands-Free Master Station
N-8050DS Door Station
N-8031SB Hands-Free Master Station Board Unit
N-8050SB Hands-Free Substation Board Unit
RS-150 Substation
RS-160 Substation (Indoor, Vandal-Resistant)
RS-170 Substation (Outdoor Vandal-Resistant)
RS-180 Substation (Emergency Use)
Related Products Category
What's new