Stock and bond information
Stock Information
(as of March 31, 2020)
Stock Information
Total number of shares authorized to be issued

78,820,000

Total number of shares issued and outstanding

34,536,635

Number of shareholders

3,526

Number of shares per trading unit

100

Securities Code

6809

Stock Listing

First Section, Tokyo Stock Exchange

Fiscal year

Begins on April 1 and ends on March 31 of the following year

Public Notice

Electronic public notice

Ordinary General Meeting of Shareholders

June of each year

Record dates

Shareholders' meeting : March 31
Year-end dividend : March 31
Interim dividend : September 30
Major Shareholders
| Shareholders | Shares held (Thousands) | Ratio of shareholding (%) |
| --- | --- | --- |
| The Master Trust Bank of Japan ,Ltd. | 2,380 | 7.03 |
| TOA Clients' Shareholding Association | 2,333 | 6.89 |
| Kobe Yamabuki,Public interest foundation | 2,000 | 5.90 |
| MUFG Bank, Ltd. | 1,681 | 4.96 |
| ITANI Kenji | 1,673 | 4.94 |
| SYSMEX CORPORATION | 1,457 | 4.30 |
| GOLDMAN, SACHS& CO. REG | 1,393 | 4.11 |
| Sumitomo Mitsui Banking Corporation | 1,188 | 3.51 |
| Nakatani Foundation for Advancement of Measuring Technologies in Biomedical Engineering | 1,040 | 3.07 |
| ITANI Hirokazu | 993 | 2.93 |
(Notes)
1.The shareholding ratio has been calculated after deducting treasury shares (657 thousand shares).
2.The status of major shareholders was previously presented after combining (aggregating) shares held in different trusts, etc., but beginning from March 31, 2020, is presented as it appears on the register of shareholders.
Distribution of shares by shareholder type
By the number of shares (Shares)
(as of March 31, 2020)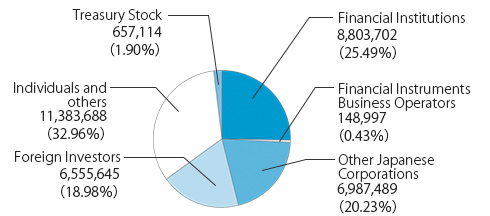 Change in the number of shareholders
(as of March 31, 2020)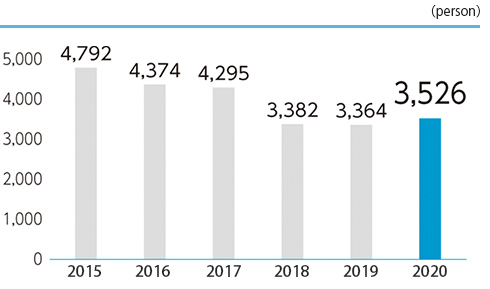 Rating information
1) Rating institution:

Rating and Investment Information, Inc.

2) Rating date of acquisition:

November 12,2020

3) Rating name:

Issur Rating

4) Bond Rating:

BBB+
Bond information
Bonds
The Company had no outstanding bonds as of March 31, 2020.