Social Contribution Activities
Contributing to society through communications that make an impression.
TOA Holds Various Workshops At Its XEBEC Hall As A Place To Introduce The Enchanting Pleasures Of Sound.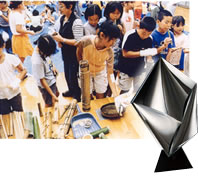 XEBEC Hall was established as an experimental field for investigating the future of sound. Various events are independently planned and presented throughout the year, such as the Asian Music Series which introduces the charms of Asian music. Creative workshops are also offered to enable visitors to learn computer music and the culture of sound from a broader perspective. In an effort to bring the children-who hold Japan's cultural destiny in their hands-closer to music, XEBEC invites elementary school children, and introduces them to the traditional music of Japan and other countries of the world. Participants can not only listen to the music being performed, but also experience a new world of sound by actually playing the instruments under the direction of guest artists and lecturers. On top of this, XEBEC cooperates in social events promoted by Hyogo Prefecture. In one case, after teaching a group of junior high school students, XEBEC had them put on an original concert to let younger generations know the pleasures of making sounds.
TOA Aims To Contribute To Society With Sound,And Actively Participates In A Wide Range Of Events.
TOA has long cooperated and participated in various regional events with the goal of fostering inspiration and local goodwill. Sound equipment was supplied to the Fureai Festival, held to promote Hyogo Prefecture in the new century, as well as to the show Hello Japan! Hello21! ! In Gifu produced by world-famous fashion designer, Kansai Yamamoto, which proved to be a dynamic pageant of sound and light. Moreover, for the Kobe Luminarie, which gives winter in Kobe a poetic charm, TOA is responsible for the entire sound presentation, including equipment installation and operation, and even the creation of original soundtracks, which has generated a great response.
TOA's Wide Range Of Activities Leads To The Mecenat Grand Prix.
TOA was awarded the "Mecenat Grand Prix 95" in recognition of its widespread activities for promoting the enlightenment of sound culture through its XEBEC center. This prize is given to those whose activities promote art and culture. TOA was recognized for the consideration it has given to the relationship between people, sound and society, as different from simply putting on conventional concerts and musical events. TOA was also recognized for giving thought to what sound should be in the future and actually pursuing those ideals.
Declaration of Social Contribution
TOA voluntarily conducts activities to resolve diverse social issues and contribute to society in general as a"good corporate citizen" trusted by society.
We aim to grow together with society and become viewed by society as an " indispensable company", by effectively using company resources and conducting original activities with a strong awareness of our relationship with "sound and video," a business field we specialize in.
What's new