Products News
October 28, 2008
TOA launches new Line Array Speaker Type H.
Slim and stylish. Ensure cost-efficient and high-quality audio for a wide venue and decor range.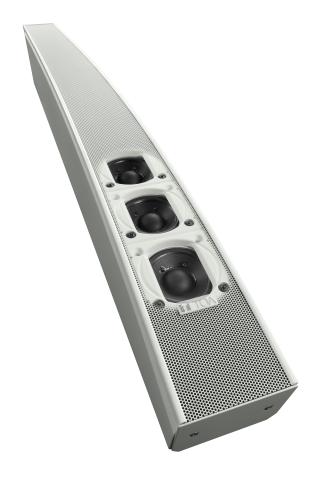 22-Oct-2008 15:34
Full-range line array speaker system
Well-suited for medium-sized mainly speech applications where clear, uniformly dispersed sound that is audible at a distance is essential, such as conference centers, houses of worship and railway stations, or venues with highly reflective interior surfaces.
Features:
Outstanding Sound Quality
"Sync-Drive" (TM) technology keeps the audio in phase with its sources at the speakers to create an ideal linear sound source.
Speakers are designed for optimally precise directivity of sound, especially vertical directivity, so the audio dispersion can be more accurately focused at the targeted area.

Aplication Versatility
Selection among four models is possible: SR-H2L, SR-H2S, HR-H3L, SR-H3S
Attractive and narrow 84 mm (3.31") design allows speakers to fit in well with the interior decor of the venue.

Space/Energy Effecient Design
High-quality sound reproduction even when an equalizer is not used
Most applications are fully covered by no-esxtension set-ups, no additional amplification equipment.

Easy and Flexible Installation
A wide variety of optional brackets
Removable input terminal connectors.

SR-H2L

Power Handling Capacity: 180W (continuous program)
Rated impedance: 8 ohms
Sensitivity: 92 dB (1W, 1m)
Speaker component: 7cm (2.8") cone type full-range unit x 9
Dimensions: 84(W) x 668.4(H) x 115(D) mm
SR-H2S

Power Handling Capacity: 180W (continuous program)
Rated impedance: 8 ohms
Sensitivity: 90 dB (1W, 1m)
Speaker component: 7cm (2.8") cone type full-range unit x 9
Dimensions: 84(W) x 663.4(H) x 115(D) mm
SR-H3L

Power Handling Capacity: 360W (continuous program)
Rated impedance: 8 ohms
Speaker component: 7cm (2.8") cone type full-range unit x 16
Dimensions: 84(W) x 1,186.4(H) x 115(D) mm
SR-H3S

Power Handling Capacity: 360W (continuous program)
Rated impedance: 8 ohms
Speaker component: 7cm (2.8") cone type full-range unit x 16
Dimensions: 84(W) x 1,177.2(H) x 157(D) mm
See also