History in-depth
The Start of TOA History
The Story of the Company's First President, the Late NAKATANI Tsunetaro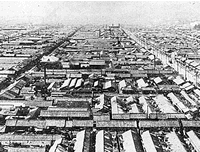 TOA's founder, Mr. NAKATANI Tsunetaro, was born on August 10, 1890 in the city of Takasago, approximately 30km west of Kobe, and was raised as the only son of a family of one boy and 6 girls. Following conscription into the army, he joined the 39th Infantry Regiment in Himeji. Although he had planned to be a photographer or painter after completing his military service, the death of his brother-in-law, who had been operating a manufacturing business in Senba, Osaka, forced him to defer his dreams, and he worked with his elder sister in the place of his brother-in-law until she graduated from university and took over her late husband's business.
Tsunetaro often used to tell his son, Taro, "Man's happiness lies in the fact that he can do the job he loves with all his might." Perhaps Tsunetaro said this out of parental love in the hope his son would not experience the same disappointments in life that he had endured. Was it the environment of Senba, Osaka that so changed Tsunetaro, who had previously preferred the more solitary profession of a painter? Or perhaps Tsunetaro's very efforts were responsible for bringing about such a profound change.
Around the time that his sister took over her husband's business, Tsunetaro happened to meet a young engineer during his travels who sparked his interest in making microphones. Soon after, he determined that this would be type of work he would like to do next. After moving to Kobe, he founded the TOA Electric Manufacturing Co., Ltd., and immediately started making microphones. The seeds of today's TOA opened here, in September of 1934.
Progress toward independent management
Fundamental Management Policy
(1) Total confidence of our customers in the use of all products.
(2) Total confidence of our associates in all business transactions.
(3) Total confidence of our employees in all efforts.
TOA ELECTRIC CO., LTD.
Forging ahead with independent management, our company's basic management policy was established in 1953 under the title the "Three Confidences," which remains a fundamental guide for the company today.
These three policies express "confidence in the use of our products," "confidence in all our business transactions," and "confidence in all our efforts." Put simply, they mean that we should find problems before they become causes of anxiety, and that both management and staff should join forces to positively try to solve them.
"Every tide has its ebb." Even strong business enterprises must obey this very fundamental rule of life. Therefore, we must strive with every action to preserve our company and protect it from unfortunate outcomes. No confidence can ever be obtained without dedicating ourselves to hard work. When we face difficult situations, we must make every effort to succeed. Only in this way can we experience and communicate TOTAL CONFIDENCE. Thus, I have every confidence that will we earn peace and tranquility for both our company and ourselves.
"Extracted from the company book entitled "Continuity Is Strength," written by the late Mr. NAKATANI Taro.
The Start of Overseas Production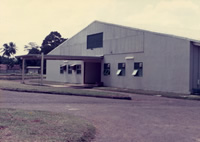 In 1975, TOA started a joint company in Jakarta called PT. TOA GALVA INDUSTRIES. In 1973, the company had already set up a representative office in Indonesia, and before long it had garnered over 90 percent of the horn speaker market there. By establishing a local production facility, TOA reinforced its sales base in Indonesia even further.
Toward Stock Exchange Listing
On September 26, 1977, TOA was listed on the Second Section of the Osaka Securities Exchange. Given the state of the world during the 1970s-oil shocks, general economic downturn-conditions were not particularly hopeful for a company like TOA to secure such a listing. Nonetheless, TOA knew that to advance to the next stage, such a public positioning would be an important element in addressing two key issues- "better brand recognition" and "improving internal capital." Following stringent examination by the Osaka securities exchange, TOA was found to have met the necessary requirements and achieved its listing.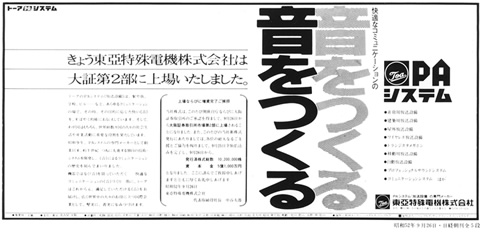 Changes in the TOA Logo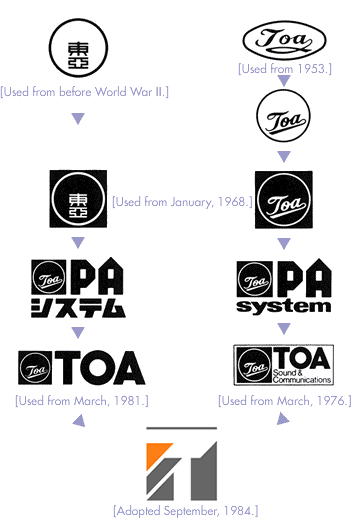 A Punishing Desert isleSurvival Course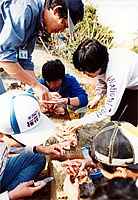 These photos shows some scenes from TOA's "Desert Isle Survival Course," which was held every year from 1988 to 1993 as part of our new recruit education program. This survival course assumes that an airplane load of recruits makes an emergency landing on a desert isle, forcing them to survive for three days on limited materials and foodstuffs until a rescue party arrives. When their food gives out, they must learn to fend for themselves. The recruits ate wild chickens, seaweed and anything they could find that was edible, making their lives a "battle for survival" which puts similar "survival" TV programs in the shade. The participants soon came to feel that even toothpaste was delicious.
NEW TOA —Setting Sail Toward a New Era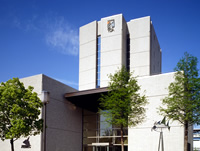 In May 1989, TOA completed construction of a new headquarters building on Port Island in Kobe. This new headquarters incorporated music from lobby to foyer, and the public space within was named "XEBEC" after the 17th-century sailing ship. The company also revised its name, changing from the original "TOA Electric Co., Ltd." to the more modern-sounding "TOA Corporation," and as Japan headed into a the new "Heisei" era, so did TOA.
TOA New Takarazuka Operations Building


[New building of Takarazuka R&D Center in 1998]
TOA's New Takarazuka Operations Building was completed in April, 1998. An intelligent building equipped with OA (office automation)-compatible floors and fiber-optic networking, this new building was designed with an integrated sound system that exudes a soothing aural representation of Takarazuka's natural environment while emphasizing TOA's corporate image as a "sound space producer." The soundtrack was composed by musician Matsuo Kenjiro*.
A "Welcome" sound greets the ears when visitors enter the building's foyer. In addition, telephone hold tones, time signals, elevator sign tones, and other aural keys used throughout the building were also specially designed with a coordinated sense of sound that discreetly conveys to all TOA's "sound specialist" corporate image.
* Kenjiro:Mr. Kenjiro Matsuo is a musician and composer hailing from Fukuoka Prefecture. His wide range activities include everything from event sound production and music production to multimedia, TV commercials and the performing arts.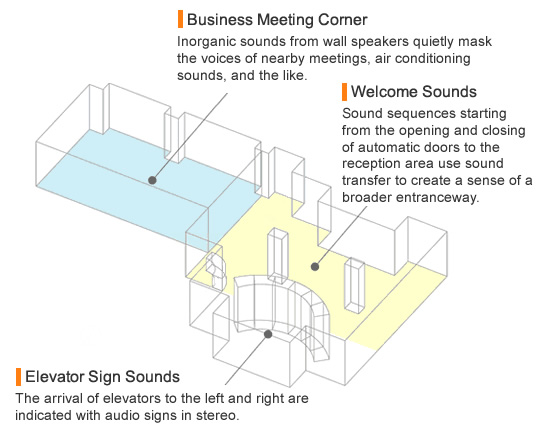 Making an Impression on International Sporting Events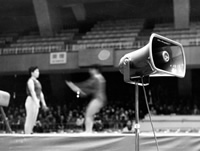 The Tokyo Olympics in 1964 gave Japan an opportunity to impress the rest of the world with its ability to host and operate major sporting events with such skill. TOA was part of the effort, contributing "sound" support in the form of broadcast equipment. These systems were incorporated into almost all of the Olympic venues that year, and TOA was extremely proud when they performed their job flawlessly for the duration of the events.
Hospitality Through Sound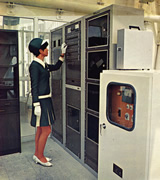 In 1970, TOA supplied, as a specialized PA manufacturer, a wide variety of its products to the Japan World Exposition '70 (Expo '70), the first international exposition in Asia, held in the Senri Hills in Osaka.
Seventy-seven nations participated in this exposition, and TOA provided many of the "hospitality through sound" elements, from pavilion PA systems to automatic broadcasts on the monorail to the "radio cars" traversing the grounds.
Leader in Automated Guidance Broadcasting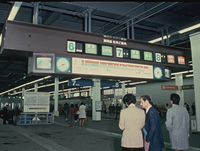 In 1971 and 1972, TOA installed automated guidance broadcast systems in two train stations, Narita Station on the Keisei Electric Railway and Wakayama Station on the Nankai Electric Railway. Just a few years later, in 1975, as part of its development of a system for Namba Station, the largest terminal on the Nankai Line, TOA began developing audio file technology for use in such systems. The company's automated guidance broadcasting systems were soon being incorporated into numerous other railways and airports, helping to position TOA as a leader in developing such sound equipment for the transportation infrastructure market.
Sounds to Lift the Human Spirit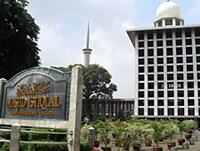 As home to the world's largest Muslim population, Indonesia is dotted with innumerable mosques large and small. These offered several perfect applications for TOA products, namely the use of its horn speakers for issuing daily calls to worship and its column speakers for broadcasting readings from the Koran. Beyond the mosque, too, these and other TOA products found their way into a wide variety of commercial and public facilities in the Indonesian market.
Favorable Response to TOA Sound Systems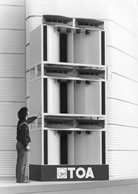 The two events that helped TOA solidify a favorable reputation as a sound system manufacturer were the Kobe Port Island Exhibition (Port Pia '81) in 1981 and the Universiade Kobe sporting event in 1985. At both of these, the specialist end-users like producers and sound mixer operators gave TOA excellent marks for quality and reliability of its sound in large-scale exhibition and sporting events.
Making Stadiums Come Alive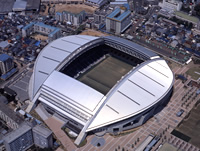 In 2002, the city of Kobe hosted the FIFA World Cup soccer matches at its Wings Stadium (now the Noevir Stadium Kobe). The stadium facilities were refurbished for the event, and this update required a field sound system that could make spectators the feel like they were enjoying the action "close-up." TOA employed its ix-3000 digital mixing system, which can freely control output sounds depending on the specific content and game type, and it also installed 72 wide-directivity speakers with a distributed arrangement system. This winning combination ensured that clear sound reached all locations within the stadium.
Public Safety & Security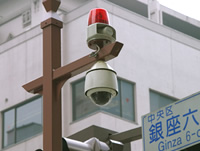 TOA's "Super Streetlight System" was introduced by the Tokyo Metropolitan Police Department in Ginza in 2004, with the aim of helping to create a safer, more secure public space for all. These streetlights come equipped with dome-enclosed surveillance cameras and a network connection to the local police station, and allow one-button emergency connection to police for swift response in times of emergency.
Sound Protecting Skyscrapers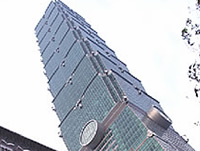 When it was constructed in 2005, the Taipei 101 Building was the world's tallest office building. This magnificent structure includes a TOA-built emergency and general-purpose public address system designed to help ensure the comfort and safety of all who use the building. This system allows targeted broadcasts to specific areas throughout the building according to need, but also the capacity to override these with important emergency broadcasts in case of fire or other emergency.
Clear, True-to-Life Sound Conveys the Passion of the Game!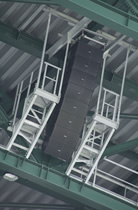 Kobe's Koshien Stadium was built in 1924, Japan's first authentic baseball field. In 2010 this landmark venue underwent a major renewal, including the installation of new sound system featuring TOA line array speakers optimized for such a large-scale sports field. The high clarity and power these offer help make such hotly contested matches even more exciting.
The Sounds of Wimbledon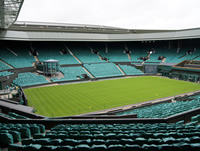 The Wimbledon Tennis Courts are host to the Wimbledon Championships, one of the most prestigious tennis tournaments in the world. A recent renewal of the public address systems here required updated, high-performance features, and so in 2011 TOA installed a system that includes the SX-2000 Smart Matrix System along with digital power amplifiers, helping to ensure the safety and smooth progress of each and every match.
Carbon From Sugar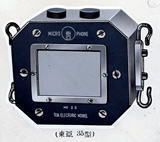 Burning sugar in a copper pot results first in liquefied sugar, which then increases in viscosity and turns into a blackened cake. Place this in a crucible pre-heated to 500°C, cut off the oxygen supply, continue heating to 1,100°C, then cool this down rapidly and the result is carbon in the form of coke. TOA used this process and then ground the resulting carbon into evenly sized granules for use in its carbon microphones. It's said that every kilogram of sugar resulted in only a few grams of this usable carbon.
Becoming a Specialist in PA Equipment Manufacture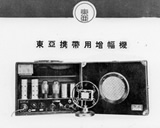 In the early days, TOA was involved in developing unique products like the "TOA Portable Amplifier" and the "Record Recorder." The former incorporated an amplifier, microphone, speaker and other components into a small case and was mainly used by funeral homes. The Record Recorder was also developed using TOA's own technology. These units were produced to order by hand and were thus relatively expensive, but still they proved to be fairly well received. Later, TOA would continue in a similar vein with made-to-order rack-mount amplifiers for use mainly in schools and factories, and through these gradually established its position as a specialized PA equipment manufacturer.
The TOA Trumpet Horn Speaker
Behind the scenes of the development of the reflex trumpet horn speakers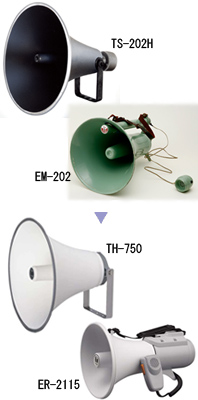 One day upon returning home, our father, the late NAKATANI Tsunetaro, hung up something that looked like a crushed steel plate. He explained that he had found something that looked like a trumpet when he strolled past an open yard of things being sold by the Occupation Forces, and bought it. Upon closer examination, we found it was a trumpet horn speaker the likes of which had never seen before in Japan. Its horn was of a reflex-type unlike those used in traditional speakers, and it was also light in weight and extremely compact. It seemed that it could be installed easily in most locations and produced at a low cost, and on top of that we found that its performance was superb.
We did everything we could to reproduce it ourselves, but everything was in short supply in those days in Japan. With great effort, we were finally able to produce a reflex trumpet horn speaker that we could sell as the first Japanese-made product of its kind. Straight-type trumpet horn speakers which had been sold before the war soon disappeared, being eliminated from competition by the excellent performance and ease-of-use of our new reflex trumpet horn speaker.
Fortunately, the demand for our reflex trumpet horn speakers grew each day, as new schools and railway stations were reconstructed. Although those days still preserved many vestiges of pre-war days, and most electrical goods were still colored in only black or gray, we dared to paint our new speaker in a brilliant sky blue, saying it was a new trumpet horn speaker. Orders soon rushed in, demanding, "We want the blue trumpet horn speakers."
This was the first step in the history of "TOA's trumpet horn speakers " and "TOA well known for the trumpet horn speakers."
"Extracted from the company book entitled "Continuity is Strength," written by the late Mr. NAKATANI Taro.
Transistor Megaphone Development Backstory
Behind the scenes of the development of the ER-57 and ER-58, as told by one of the team's development engineers.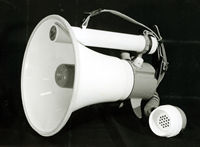 "Because we could not achieve the design-specified power output using Japanese transistors of the time, we had to import these components from overseas. However, due to the difficulty in getting the optimum performance from such imported transistors, we ended up destroying many of them in the process of development. Considering that each power transistor cost as much as 10,000 yen, and that the monthly salary of a new recruit fresh from school in those days was only about 7,500 yen, even now I feel that the company was extremely generous in allowing us to perform such costly development work."
[Photo: ER-58]
Voice transmission test through a gigantic horn speaker
The scene of a voice transmission test through a gigantic horn speaker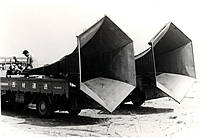 The super-large PA system was a full 6.6m in total length and 3m in horn diameter. The system's furthest audible distance was 12km.
High Performance Amplifiers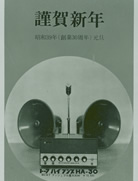 In 1961, TOA developed the "White Bike PA," a PA device mounted on white police motorcycles. Then in 1962, the company successfully completed long-range voice transmission testing using a huge horn speaker, paving the way for the further development of large-scale PA systems. 1963 saw the release of TOA's HA-30 vacuum tube amplifier, which was used in a variety of applications as a high-performance amplifier despite its small size. Marketed under the concept, "This output for this (low) price," sales were brisk and the HA-30 proved increasingly popular, becoming a star amplifier in the TOA lineup.
First in the World, First in Japan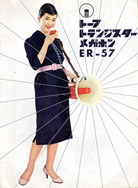 In 1954 TOA developed the world's first electric megaphone. Offering clear sound over long distances, the convenient portable design allowed the user to hold the microphone in one hand while hanging the speaker portion over the shoulder, and this earned it favorable reviews among political candidates campaigning in the streets. In 1957, TOA created Japan's first transistor megaphone, and followed this in 1959 with the successful commercialization of a transistorized car amplifier. These products, which took advantage of the advanced technology of the day, surprised the world with their light weight, compact design, low energy consumption, and high performance.
TOA's Most Famous Pruduct
TOA's ER-303 megaphone goes down in history as being used by the criminal who pulled off the still-unsolved 300 million yen robbery case.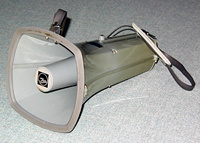 In December, 1968, one of Japan's most famous robberies, the "300 Million Yen Case," occurred in Fuchu, Tokyo. Disguising himself as a motorcycle policeman, the criminal used one of TOA's ER-303 megaphones in the robbery of an armored car, which soon became an important clue in the police investigation. At the time, TOA fully cooperated with the Metropolitan Police Department for an early settlement of the case, providing information wherever possible and trying to quickly locate the shop from where the ER-303 in question was purchased. However, in spite of extensive nationwide investigations, the culprit was never caught, and the statute of limitations on the case expired in 1975. Since this case is famous throughout Japan owing to the many mysteries that still surround it, to this day TV stations still ask for the megaphone to appear on TV from time to time.
Something Different
Behind the scenes of the development of the "900 Series," as told by one of its development engineers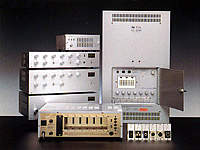 "At the time, we were renting an apartment in San Francisco, and spent many months conducting market surveys. As a result, we decided that we should start planning a new product, and visited every company we could find that was related to acoustic sound, thoroughly discussing all possibilities until we could arrive at some concrete concepts. Americans generally don't pay much attention to most products unless they have a special feature that differentiates them from all the rest. After making extensive efforts to find that "something," we came up with the concept of modular construction. Our development theme at the time was "Something Different."
"I believe that it is important for the manufacturer's thinking or fundamental policy to be visible in the product itself. Of course, making products that ultimately satisfy customers is the most important goal of all."
Riding the Karaoke Boom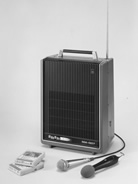 In 1978, TOA's MA-007 wireless music amplifier for karaoke performance proved to be a major hit. It wasn't long before a karaoke craze swept over Japan, and TOA was there with a broad product lineup ranging from commercial to home use equipment.
Improving Performances through Sound Design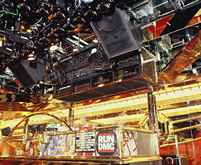 In the latter half of the 1980s Japan saw the opening of numerous small live music venues and discos, applications which required sound systems durable enough to pump out high-volume sound reliably over long periods.
Also during this time, more shops and other commercial and amusement spaces began wanting audio design to meet their specific needs, and many clients appreciated TOA's active approach to sound creation.
Developing the World's Finest Professional Audio Equipment
Developing the World's Finest Professional Audio Equipment Behind the scenes of the development of the ix-9000 Fully Digital Mixing System, as told by one of its development engineers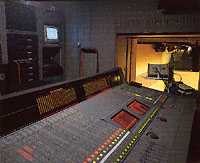 "Despite the fact that the development of our Fully Digital Mixer was to be the first of its kind in the world, we had only a limited time frame of two and half years from the start of development till the system's final installation. We repeatedly communicated and double-checked with the tonemeister at the Vienna National Opera Theater, and eventually were able to bring the equipment to the Theater after prototype development manufacturing and developing the installation equipment.
"One of the main motivations behind the development of the ix-9000 Digital Console was that our R&D staff members at the time were already deeply involved in digital signal processing research. The knowledge and understanding that the development team members gained in regards to the on-site requirements of digital mixing technology led to the development of the ix-9000. From this job, I came to strongly feel that our extensive preparations, which could be used to put a broad range of ideas into shape, were indispensable for giving birth to new products."
* Photo: ix-9000
Z-DRIVE for Professionals in the Field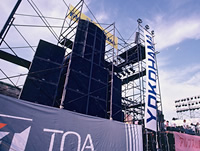 In 1983, TOA set up a special department tasked with investigating the needs of musicians and sound engineers and developing products based on these.
In 1990, TOA released its Z-DRIVE touring speakers.
Developed to combine sustain hard-use strength and durability with high quality sound, they performed well and found success in many live music venues and outdoor events.
For More People Farther Away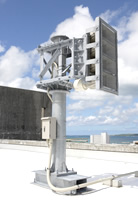 After the Great Tohoku Earthquake of March 11, 2011, the importance of disaster broadcasting speaker equipment was recognized more clearly than ever. Horn array speakers are able to reach their sound about twice as far as conventional speakers, and because their sound can still be heard clearly, they make it possible to call people located even farther away to safety. As a Kobe-based company which itself experienced the Kobe-Awaji Earthquake, TOA remains dedicated to any efforts that will help prevent and minimize the effects of disasters on people.
TOA received the Grand Mecenat Award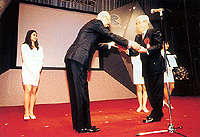 In 1995, TOA received the Grand Mecenat Award (sponsored by the Association for Corporate Support of the Arts), which is presented to corporations that stand out as supporters of the arts and culture. TOA received this award for its highly regarded "sound culture enlightenment activities," as promoted through its XEBEC Hall public performance base. TOA intends to continue its XEBEC activities, while bearing in mind the relationship between mankind and its surrounding environment, and the ideal role that sound plays in that environment.
* Photo: The Grand Mecenat Award reception ceremony
A Regionally Aligned Company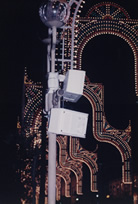 Every year since 1995, the city of Kobe has sponsored the Kobe Luminaire Light Festival, created to commemorate the victims of the Great Hanshin Earthquake and embrace the theme of "ongoing recovery and the city's hopes for the future." As a regionally aligned company with strong roots in Kobe, TOA has been supporting by producing the music that matches each year's illumination theme and also by providing the sound systems for the event.
For Each Generation, Its Own Form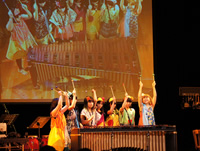 In 2010, TOA was honored to receive a Commissioner for Cultural Affairs Award (part of the 2010 Japan Mécénat Awards) for its "TOA Meet! Music! Concept," a multifaceted program that the company created to bring children into contact with music in ways appropriate to specific ages and stages of development.
Programs like this, which are both unique and sustainably implemented, have been well received and demonstrate TOA's commitment to regional society.
With "music" and "education" as pivotal fundamentals, TOA has created compound programs around the watchwords, "for each generation, its own form."
Announcements! Encouragements!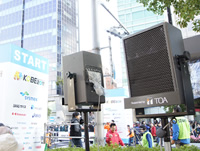 TOA supports the Kobe Marathon, an event since 2011, by providing speakers, megaphones, and various kinds of sound equipment. A horn array speaker comprised of 16 connected speakers at the starting position offers clean, clear sound that can be heard all the way to the last runners bringing up the rear up to a kilometer away. Further, near the finish line, too, TOA's Z-DRIVE pumps up the action and excitement of the event by delivering encouragements, music, and real-time announcements to spectators lining the course.