TOA History




New TOA headquarters building located on Port Island, Kobe. Construction of TOA PI Building completed.
TOA Electric Co., Ltd. renamed TOA Corporation.

NEW TOA - Setting Sail Toward a New Era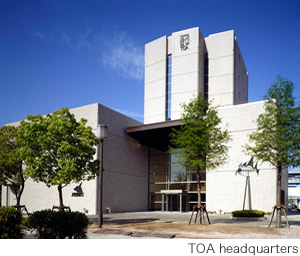 TOA Electronics Taiwan Corporation established in Taipei.
XEBEC Corporation established.
SAORI Digital Signal Processor developed.
Emperor Showa (Hirohito) passes away.
Consumption tax implemented.
Fall of Berlin Wall.

BEAM sound room opened at Tokyo Office.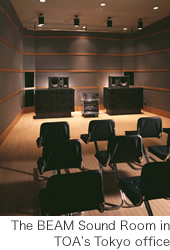 An induction course held on a desert island as one of the new recruit education programs.

A Punishing Desert isleSurvival Course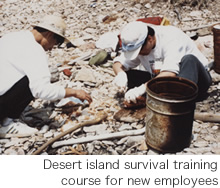 Undersea tunnel between Aomori and Hokkaido completed.
Seoul Olympics.

Information Center opened.
All-zone broadcast system Call Station 12 developed.

Improving Performances through Sound Design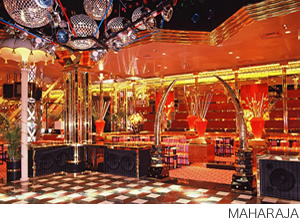 Japan National Railways privatized and divided into seven regional JR companies.
Intermediate-Range Nuclear Forces Treaty concluded.

STI measuring system, color CCTV camera, teleconferencing system, and multi-point communication system developed.
TOA speaker sales increase, backed by a surging disco boom in Japan.
Enforcement of the Equal Employment Opportunity Law.
Chernobyl nuclear power plant accident (Soviet Union).
General Secretary Mikhail Gorbachev begins Perestroika campaign.

TOA wins its first Good Design Prize (G mark) for 7 models, including a simplified CCTV system.
Official supplier for 1985 Kobe Universiade.

Favorable Response to TOA Sound Systems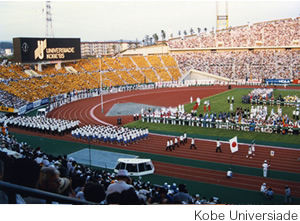 Japan Air Lines Flight 123 jumbo jet crashes in mountains.
Group of Five Conference of Finance Ministers and Central Bank Governors agree on enhancement of joint intervention in exchange markets. (Plaza Agreement.)

TOA enters the intercom market, introducing ten new products including door-phones.
New corporate symbol introduced.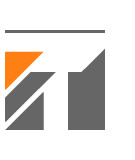 Sarajevo Winter Olympics.
Los Angeles Olympics boycotted by Soviet bloc countries.

TOA Electronics Ltd. (currently TOA Corporation (UK) Ltd.) established in the U.K.
CCTV (closed-circuit television) system developed.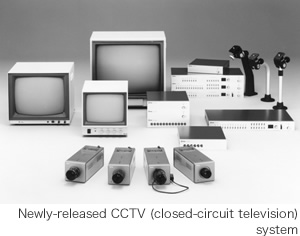 The 1983 NAMM Show, where TOA's professional sound equipment won high praise popularity.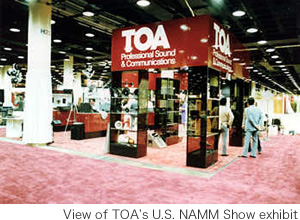 Tsunami in Sea of Japan resulting from earthquake off coast of Akita Prefecture kills 104 people.
Korean Air Lines bombing incident.

Online national distribution network completed.
Hotel New Japan fire in Tokyo claims 33 lives.
Joetsu and Tohoku Shinkansen lines opened.

Starts operations of the Western Japan Distribution Center.
TOA equipment used at Kobe Portopia '81.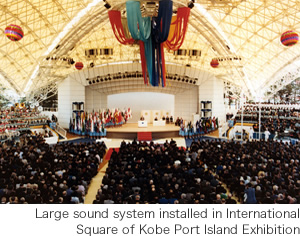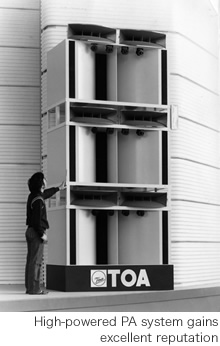 Pope John Paul II visits Japan.
Portopia '81 exposition held in Kobe.