TOA History




TOA invests in Hino Seiki Co., Ltd.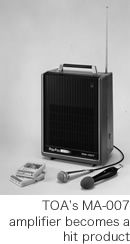 Radiation leak at Three Mile Island nuclear power plant in the United States.

The MA-007 Wireless Music Amplifier (Karaoke) is released, and becomes a big hit.
AIREX Co., Ltd. established.
Sound Room completed at Takarazuka Headquarters.

Sounds to Lift the Human Spirit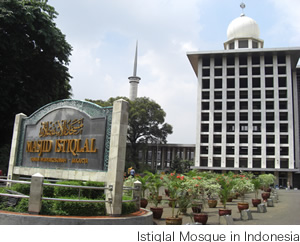 New Tokyo International Airport opened in Narita.

U.K. Branch opened (reorganized as a company in1983).
Stock listed on the Second Section of the Osaka Stock Exchange.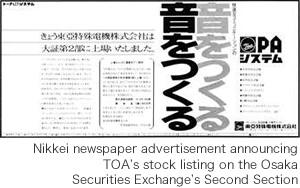 Volcanic eruption of Mt. Usuzan, near Toyako Lake in Hokkaido.

Y75 million worth of order received for equipment for Africa's largest soccer stadium in Angola.
Intercom System developed.
Montreal Olympics.
Lockheed bribery scandal rattles Japanese government.

"Replica series" Professional Sound System developed.
Joint venture PT. TOA GALVA INDUSTRIES founded in Jakarta, Indonesia.

The Start of Overseas Production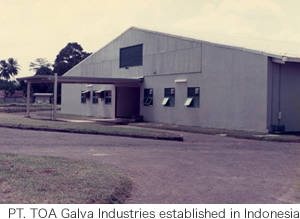 Leader in Automated Guidance Broadcasting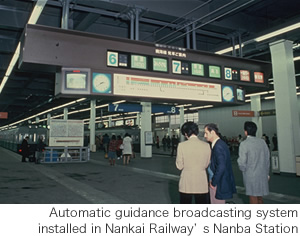 Sanyo Shinkansen opens service between Okayama and Hakata.
Ocean Expo '75 held in Okinawa.
Vietnam War ends.

TOA Electronics, Inc. established in San Francisco.
Z-Series amplifiers enjoy excellent reputation.
Electronic Industries Association of Japan (EIAJ) established. Electronic Machinery Industries Association, EIAJ's predecessor, dissolved.

TAKITSU Co., Ltd. founded.
Computer-connected automatic broadcasting system developed.
National Police Agency makes bulk purchase of patrol car PA systems.
TOA ELECTRONICS DEUTSCHLAND G.m.b.H. established in Hamburg (reorganized in 1983).
Indonesian representative office established.
OPEC invokes oil embargo (first oil shock).
Fourth Arab-Israeli War breaks out in the Middle East.

Pasco Co., Ltd. established.
Transfers medical equipment division operations to TOA Medical Electronics Co., Ltd. (now Sysmex Corporation).
Pendent speaker, the industry's first of its kind, developed.
Desk-amplifiers are released.
Automatic train announcement system installed at both Keisei Narita Station and Nankai Wakayakashi Station.
900-series launched in the North American market.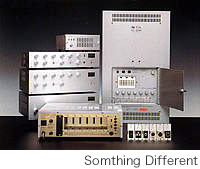 Sapporo Winter Olympics.
Sanyo Shinkansen opens between Shin-Osaka and Okayama.
Okinawa reverts to Japan.
Munich Olympics.

United States announces new economic measures to keep the dollar strong (Nixon Shock).
Japanese government shifts from fixed yen/dollar exchange rate to the floating exchange rate system.

TOA Communications Co., Ltd. established (now TOA Engineering Co., Ltd.).
Takeo TOA Co., Ltd. established (now TAKEX Co., Ltd.).
TOA's emergency broadcast systems approved by the Broadcasting Systems Technical Committee.
"Chika-Chika" Series wireless amplifiers is released.
TOA equipment used for Osaka's Expo '70.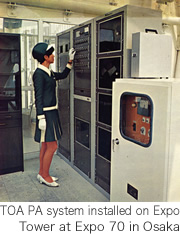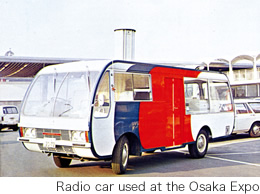 Expo '70 world's fair opens in Osaka.