TOA History




U.S. representative office established in San Francisco.
Emergency warning system developed.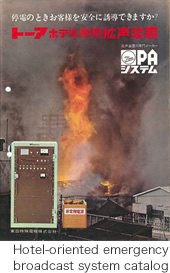 Tomei Expressway completed between Tokyo and Nagoya.
First FM radio broadcasts by a private broadcasting station begin.
Apollo 11 successfully lands on the moon.

Establishes a medical equipment sales company, TOA Medical Electronics Co., Ltd. (now Sysmex Corporation).
Establishes Takarazuka Metal Co., Ltd. (name changed to MECANIX Co., Ltd. in 1983), a company specializing in manufacturing metal press dies.
TOA PA system logo introduced.
Holds the 1st PA System Exhibition at the Osaka Shin-Hankyu Building.
New PA system using cabinet-rack format developed.
Megaphone for use in airplanes jointly developed with Japan Airlines.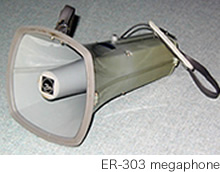 Mexico Olympics.
Hotel fire in Kobe's Arima-Onsen Hot Springs kills 30 and triggers revision of Japan's Fire Services Act.
300 million yen robbery carried out in Tokyo.
Nuclear Nonproliferation Treaty established.

Blue Line series of amplifiers developed.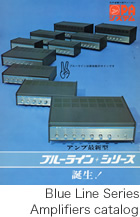 Summer Universiade held in Tokyo.
European Community (EC) established.

Japan's population exceeds 100 million. GNP exceeds 100 billion dollars.
China launches the Cultural Revolution.

ACOUS Co., Ltd. founded.
Transistor megaphone plant receiver JIS certification.
Meishin Expressway completed between Kobe and Nagoya.

TOA broadcasting equipment chosen for 31 locations around Tokyo Olympic Games venues.

Making an Impression on International Sporting Events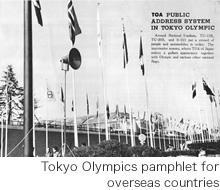 Tokaido Shinkansen bullet train service begins.
Tokyo Olympics.

Automatic blood cell counting instrument developed and first unit delivered.
Establishes Ikegami Metal Co., Ltd., a TOA satellite company specializing in metal spin forming.
Attracted industry-wide attention with development of HA-30 amplifier.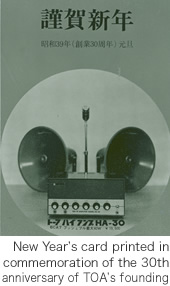 NHK begins Japan's first UHF television broadcasting.

New Production Facility established in Takarazuka, Hyogo Prefecture.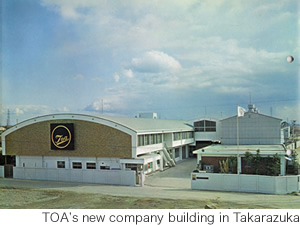 Orients toward the development of a high power output PA system. Tests prove successful.

Voice transmission test through a gigantic horn speaker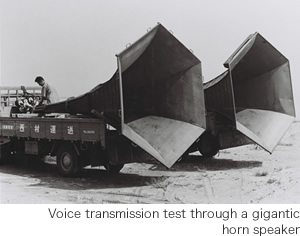 First Japan Electronic Industry Exhibition held in Tokyo.
Cuban Missile Crisis.

The decision is made to make inroads into the medical engineering (ME) industry.
A police motorcycle PA system is developed.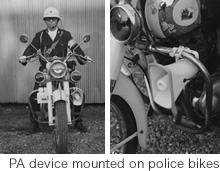 Second Muroto Typhoon strikes Japan with 202 killed or missing.

"TOA's Megaphone," a radio commercial sung by The Peanuts (a popular Japanese singing duo of twin sisters) is produced and regularly broadcast.
First transistorized televisions put on sale.
Rome Olympics.
NHK and four private TV corporations begin color TV broadcasting.