Press Release
May 29, 2012
News & Info
TOA exhibits at InfoComm 2012.
TOA Corporation announces that TOA Electronics, Inc. and TOA CANADA Corporation will exhibit at InfoComm 2012, to be held in Las Vegas, USA.
TOA will be displaying its Paging, Sound Reinforcement and Intercom system solutions focusing primarily on HOW, Educational, Corporate Boardroom & Mass Notification, with live demonstrations of its systems in an applications-based environment. Featured products on display will include the new 5000 Series UHF Wireless Transmitter, the new IR-802 IR Wireless Microphone Classroom System, the new VM-3000 Voice Evacuation System, and much more.
Attendees who fill out a customer satisfaction survey card at our booth will be entered into daily drawings for a chance to win a $100 Visa gift card. Attendees can also fill out the survey before the show by clicking here and automatically be entered to win!
TOA will also be hosting a training session entitled "Designing Systems for Mass Notification". The session will be delivered by TOA's Trainer & Technical Specialist-Josh Srago on Wednesday, June 13th 8:30am at LVCC. The course is $25, which you can pay for with Infocomm credits. However, the class will provide CTS certified attendees with 1/2 CTS-D credit and also Infocomm credits which can be applied to merchandise at the Infocomm store or other training sessions. You can register for this course by clicking here. Don't delay, as space is limited!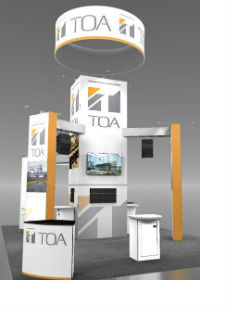 InfoComm 2012
June 13-15, 2012
Las Vegas Convention Center
Booth#C11531
URL: http://www.infocommshow.org
---
[Featured Products on display]
■Classroom Area - Systems for classroom, and school-wide
-Infrared Wireless Classroom System (Reference sample)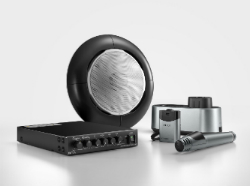 ■Mass Notification Area - Systems for wide-area paging, notification and emergency evacuation
- Voice Evacuation System VM-3000 Series
- Ceiling Mount Speaker PC-580RU (Reference sample)
- IP Network Intercom System N-8000 Series, etc
■HOW - Live PA systems for HOW & other performance spaces
- Digital Matrix Mixer D-2000 Series
- UHF Wireless Microphone System 5000 Series, etc.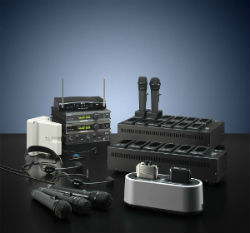 ■Boardroom - Conference and corporate boardroom sound reinforcement
- Compact Digital Amplifier AV-20D (Reference sample)
- Digital Matrix Mixer/Amplifier 9000M2 Series, etc.
See also