Press Release
September 03, 2010
News & Info
TOA CORPORATION (UK) LTD. will participate in PLASA 2010.
Surbiton, Surrey, September 3, 2010 - TOA Corporation announced today that TOA CORPORATION (UK) LTD. will exhibit in PLASA 2010 trade show, to be held at Earls Court Exhibition Centre, London, England. PLASA is where we can see the latest pro audio, lighting, stage engineering, AV and systems integration technology.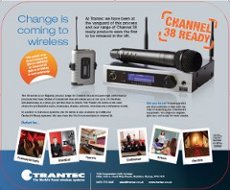 This year, TOA exhibits its innovative audio systems as well as TRANTEC UHF wireless systems. Sure to attract attention is TOA's flagship model TRANTEC S5 Series Wireless System. TOA is the first company to release UHF wireless systems compatible with the new Channel 38 (606 to 614 MHz)* UK Wireless Microphone License.
Also on display are TOA's award-winning D-2000 Series Digital Mixing System, Type H Line Array Speaker with precise directivity and intelligibility, and DA Series Digital Power Amplifiers featuring high efficiency and low power consumption.PLASA show is a great opportunity for TOA to network with partners from the UK commercial audio industry. We have a lot to talk about, especially our international business, for example, opening new offices and making new website of TOA Europe available in multiple languages.
We are looking forward to meeting you there.
*Channel 38 : Newly dedicated channel to wireless microphones in UK. The current Channel 69 (854 – 862 MHz) will be switched over completely to Channel 38 until 2012.
---
PLASA 2010
12 to 15 September, 2010
Earls Court Exhibition Centre, London, England - Booth : Stand 1-F28
URL: http://www.plasashow.com/



---

[Booth Image]


[Feature products]
TRANTEC S5.5 UHF Wireless Microphone System

D-2000 Digital Mixing System + Line Array Speaker Type H