Press Release
April 28, 2010
News & Info
TOA (CHINA) LIMITED. exhibits in CHINA PALM EXPO 2010.
Shanghai, April 30, 2010 - TOA Corporation announced today that TOA (CHINA) LIMITED. will exhibit at the CHINA PALM EXPO 2010 trade show, to be held at the China International Exhibition Center. CHINA PALM EXPO is the largest professional audio, lighting and audio-visual trade show in Asia. At this event TOA will introduce a varied lineup of conference and sound system products, highlighting the key themes of "Public address broadcasting, sound, and networked communications."
This year's TOA booth highlights a diversity of applications in conference halls, hotel banquet halls, and other installation venues of various layouts and sizes. Among the many examples on display is the first trade show appearance of the M-633D Digital Stereo Mixer, which TOA has designed to fit compactly into a 1U (1 unit size) rack space while still building in advanced technologies like Automatic Resonance Control (ARC) and other functions needed to ensure clear sound. Also on display will be TOA wireless microphones, speakers, and many of the other products that contribute to TOA's ability to offer optimized solutions for diverse applications.
By all means please drop by and see for yourself!
*Automatic Resonance Control, or ARC, is a proprietary TOA technology that automatically identifies room mode frequencies and applies an inverse response curve to compensate for the measured room response.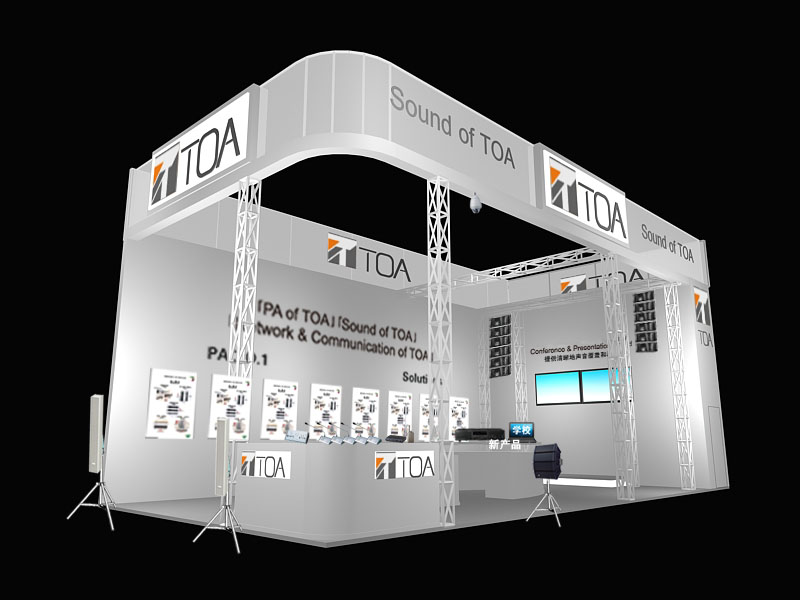 The 19th China International Exhibition on Pro Audio, Light, Music & Technology
(CHINA PALM EXPO 2010)
20-23 May, 2010
China International Exhibition Center (Beijing)- Hall 3 #3105
You will have the chance to see:
- In the Conference & Pro Sound Area
M-633D Digital Stereo Mixer (Reference sample)
D-2000 Digital Mixing System
Infrared Wireless Microphone System
Infrared Conference System
Trantec S5.5 Series Wireless Microphone System
- In the SSD (Sound Space Design) Area
A-1120SS Mixer Amplifier (Reference sample)
F Series Box Speakers
- In the Installation Example Presentation Area
An exhibit detailing some of the actual installation sites to which TOA has contributed general public address and network systems
See also