Press Release
February 15, 2010
News & Info
InAVation Award Winner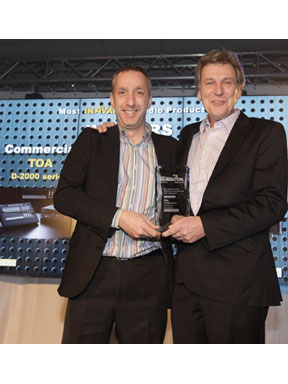 Audio specialist manufacturer, TOA received the esteemed Most InAVative Audio Product for Commercial Use (non loudspeaker) InAVation Award for its D-2000 series all-in-one digital mixing system at the prestigious InAVation Awards Ceremony. The ceremony was held in the Diamond Lounge at the Amsterdam RAI Exhbition and Congress Center during Integrated Systems Europe (ISE 2010). The award category was sponsored by ProAudio Middle East Magazine.
The D-2000 was previewed on the TOA stand at ISE and combines the functions of auto mixing, matrix switching, and signal processing. "Receiving such an esteemed EMEA(*) award is a true success for one of our most exciting products to be launched in the EMEA market and we're delighted that the industry has recognized it for its innovation and functionality and we send a big thank you to everyone who voted," says Brett Downing, Sales & Marketing Director at TOA Europe.
The awards were presented to TOA in front of a 1,000-strong audience attending the InAVation Awards ceremony. InAVation awards are given to global manufacturers who released commercially available products into the EMEA marketplace during 2009. Eighty-four products were finalists, and one winner was selected for each of the 14 technology categories using an online voting system. TOA was selected as a winner from 14,000 votes in the InAVative Audio Product for Commercial Use (non loudspeaker) awards category.
(*) EMEA: Europe, the Middle East and Africa.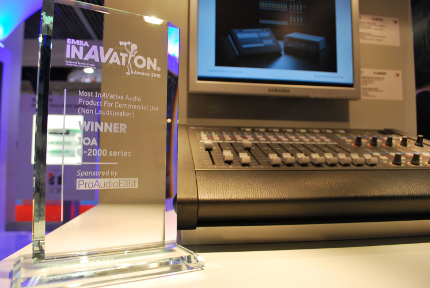 See also