Top Interview (7/8)
The Medium-Term Management Plan
- The mid-term plan defined three business domains. Could you please give us examples of the sort of value we can offer in each domain?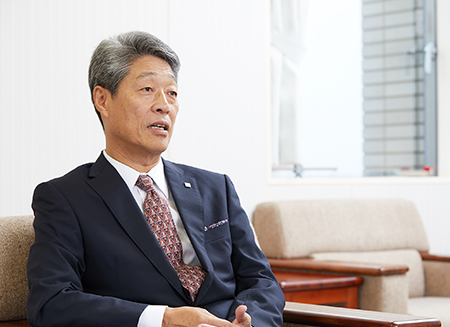 As the frequent occurrence of natural disasters has resulted in a significant rise in disaster prevention awareness, an increasing number of local governments in our Public Safety domain have begun using our disaster prevention administrative radio systems, as well as river and reservoir sluice gate surveillance systems. This seems to be attributable to the sales efforts we've made in order to maintain constant contact with local governments, with disaster prevention measures foremost in mind. Also, when Typhoon No. 21 (aka Typhoon Jebi) widely flooded the coastal areas of Japan's central Kansai region in September of last year, we rushed to local facilities sooner than many other companies, and inspected their broadcast systems. As a result, many more systems were quickly restored to allow normal broadcasting operations.
In the Public Communication domain, there are strong indications that such transportation infrastructure as railways, commercial facilities and hotels have begun to use multi-language broadcasting systems aimed at assisting Japan's growing numbers of overseas tourists. It is widely assumed that the places these tourists visit will expand into the provinces in the future, and sales possibilities are expected to increase in proportion to this trend in tourism.
In the Public Space Design domain, we have reproduced the sound of bubbles and provided audio descriptions of scenes of swimming fish, from sardines to whale sharks, for visually impaired visitors to a local aquarium, which has pleased these special needs visitors very much. We also installed speakers for trial listening in one of the rooms of the Billboard Café in Hibiya, Tokyo. These speakers make it possible for listeners to distinguish even the slight differences of 1Hz in frequency or 1dB in sound pressure level, offering new ways to enjoy music.
In this way, I hope that in the future we can continue to realize our Smiles for the Public corporate values in these three important business domains.