Top Interview (7/7)
Our Initiatives toward the SDGs
-2030 is also the year in which we hope to meet the SDG targets, isn't it? How would you like TOA to go about contributing to the achievement of the SDGs?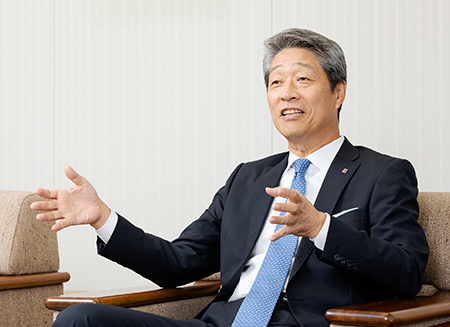 Management Vision 2030, which we have just devised, sets 2030 as its target year, the same as the SDGs. It also overlaps with the SDGs, which seek to solve a variety of the problems of society, in a number of other ways. In particular, one of the principles of the SDGs, namely "Leave No One Behind (LNOB)," perfectly aligns with the ethic that lay behind our development of the evacuation guidance broadcasting systems and next-generation disaster prevention speakers. From a global perspective, too, inquiries and orders for life-saving systems, such as a tsunami warning system in Indonesia and a dam breakage warning system in Vietnam, have been coming in one after another. I think that TOA's role will become even more important in the years to come.
From among the 17 SDGs, we believe that the following four goals are of particular significance to TOA:
4. Quality education
11. Sustainable cities and communities
12. Responsible consumption and production
13. Climate action
In order to achieve both further growth and sustainable improvement in corporate value, we will carry out our corporate activities, while fulfilling our social responsibility from a comprehensive perspective that incorporates ESG (Environment, Social, and Governance), and continuing to deepen our dialogue so that we can meet all of the expectations of our stakeholders.