Top Interview (5/6)
5

As TOA's New President, CEO
As TOA's New President, CEO
- How do you think you should change TOA in the coming years?
I joined TOA in 1981, and from that time on I worked mostly out in the sales field. What I always had in mind during my sales activities was to never fail to have customers' needs deployed in products. I enjoyed coming up with ideas to help them solve their problems and then working with our development division to put those solutions into concrete products. These days, though, I think many of our employees are a little too cautious in embracing such challenges. But it's time to cultivate an environment that will let each of us in TOA grow by taking up new challenges and trying new things. To that end, I would like to create more opportunities and better conditions for more fruitful discussions and exchanges of ideas, unhindered by organizational or hierarchical relationships.
- What are your aspirations as the new head of the TOA leadership?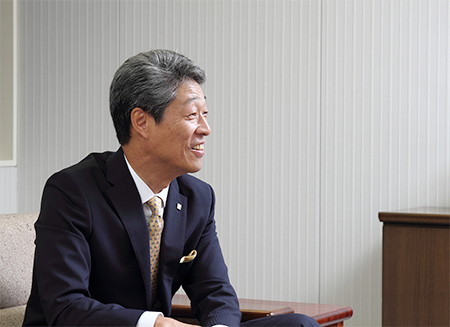 I think one of my roles is to protect the unique business TOA has built over the past eighty-plus years and capitalize on those achievements to increase the number of truly new products not yet seen in the world. We can expect markets like disaster reduction & prevention and anti-crime measures to continue growing, and we are also coming up on a number of world-class sporting events that will also bring in new business. My goal is to help us further refine our capabilities as a specialist manufacturer of sound and video components so that we can grasp and run with these many new opportunities as effectively as possible.