Top Interview (5/7)
5

FOSTERING ONGOING CONNECTIONS WITH CUSTOMERS
FOSTERING ONGOING CONNECTIONS WITH CUSTOMERS
- What impact do you think our efforts to stay connected with customers will have on business?
In the past we've followed what you might call a "sale-and-done" approach, just selling our products to customers once and then waiting for them to come to us again whenever they need to replace, upgrade or increase units. But that's rather of a waste to let such relationships we've taken the trouble to cultivate become distant again; instead, we should be finding ways to generate new business that attaches importance to connections with customers.
We can use after-sales maintenance operation and repairs as points of contact to maintain ongoing connections with customers. These offer regular opportunities to see for ourselves their actual locations and situations, to better understand what problems they have. And having identified and solved these, we can then create and offer the most ideal solutions-oriented business model.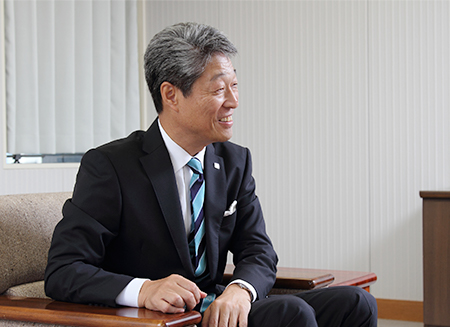 We can also use such ongoing connections to collect information on the condition of equipment, let the customer know immediately about any issues we detect, and this becomes yet another means of reinforcing connection. Throughout this process we're fostering an environment in which customers feel reassured that they can continue using our TOA products with confidence.
Buildings where large numbers of people congregate are required to have voice evacuation systems. But these voice evacuation systems can also be used in a more general purpose way, and here we have an opportunity to build services that take advantage of information networks, offering new proposals that are yet another way to build lasting connections with clients.
Building connections in this way also leads to expanding business. And if customers can come to know TOA products directly, then we will naturally "become a company with strong brand power," which is one of the goals stated in the current mid-term plan.