Top Interview (4/6)
4

Directions in Overseas Development
Directions in Overseas Development
- About 40% of TOA's business comes through its operations abroad. How is the company extending itself into each region to further develop its "5 TOAs in the World" policy?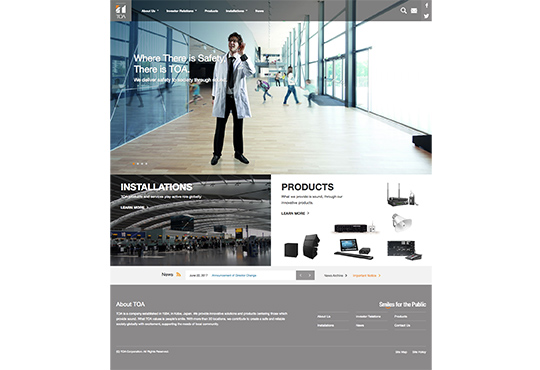 The aim of "5 TOAs in the World" is to divide the world market into five regions—Japan, the Americas, Europe, Middle East & Africa, Asia & Pacific, and China & East Asia—then cultivate the markets in each region using specific regional strategies. Earlier I mentioned the idea of going to places in person, listening to people's voices, looking closely at real markets, and having the insight to envision what these might need. This approach holds true for our global markets just as it does for our domestic ones. On one hand, we're developing products that meet regional needs and sending these into regional markets, but at the same time we're also creating advanced-technology platforms at our Japan headquarters and then having our regional teams arrange them as they see fit into specifically localized products.
Going forward, I want us to be thinking strategically about which of our strengths can be leveraged most successfully in each of the four TOA regions abroad, and based on that understanding develop our organization in ways that bring us together and help us grow as a unified TOA Group.
It's also true, however, that with certain exceptions, the TOA brand is not as well-known abroad as it is in Japan. As one effort to change this, we've created a promotional campaign around a new mascot, "Dr. Sound," which aims to boost the effectiveness of the TOA brand by reinforcing our image as "expert sound consultants " who can offer useful advice on how to achieve better sound.