Top Interview (1/7)
LEAD
As a specialized sound manufacturer, we are continuing to strive to solve many of the problems that society faces in the "new normal."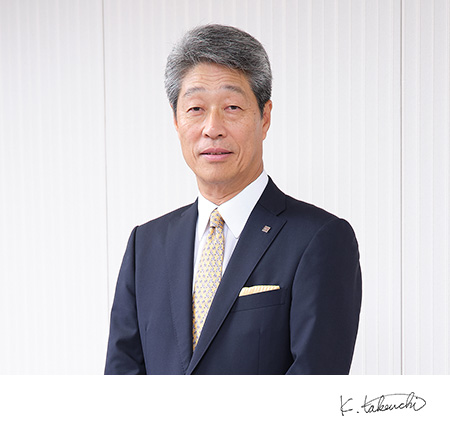 TAKEUCHI Kazuhiro, TOA President,CEO
To begin, I'd like to thank all our shareholders and investors for their continuous support, and I'd also like to extend my heartfelt sympathy to those affected by the novel coronavirus pandemic that is currently raging throughout the world. I pray that this spreading pandemic will come to an end as quickly and with as little lasting effect as possible.
TOA's business achievements for Fiscal Year 2019 which ended in March of 2020, the second year of our Mid-Term Management Plan (hereinafter "mid-term plan") (which will end in March of 2021), were significantly reduced from our original estimates. Additionally, we were forced to revise our target numerical values downward for the last year of the mid-term plan due to the influence of the global novel coronavirus pandemic.
On the other hand, TOA's potential for offering new value to society has been expanding as the world has suddenly been required to create a "new normal." We continue to not only further strengthen our conecttions with our customers, but are also devoting our efforts to our "solutions-oriented business model" in the three business domains of "Public Safety," "Public Communication" and "Public Space Design," which will continue well into the future.