Let's Learn About TOA
Let's Learn About TOA
This will explain to you in simple terms just what kind of company TOA is.
View by investment topic
TOA's Growth Engines
Hosting of Large-Scale Sports Events Leading to Expansion of Demand for Facilities
As the world becomes more and more interested in sports, the Japanese government is actively pursuing an increase in Japan's "sports population", and gearing up to host a number of large international sporting events. TOA, too, is playing its part, working to meet the growing demand for updates and/or new installations of large-scale audio systems in sports venues.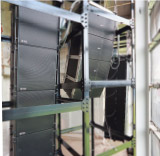 QVC Marine Field
Line Array Speakers
A Great Many Achievements in Both Domestic and Foreign Facilities
From the Hanshin Koshien Stadium, Kyocera Dome Osaka and Noevir Stadium Kobe to the mecca of tennis that is the Wimbledon Courts and the Beijing National Stadium (nicknamed the "Bird's Nest"), TOA's audio systems are widely used in renowned large-scale sports venues both in Japan and around the world. Because of their massive size, these sports stadiums present difficult acoustical problems: this is where TOA comes in. Our audio systems are designed to accommodate the special characteristics of each facility, and with the right technology all the sounds can get to wherever they need to go in the venue, allowing, for example, a clear, easy-to-understand sound to reach all the spectators even in an environment one would expect heavy disruption from echoes.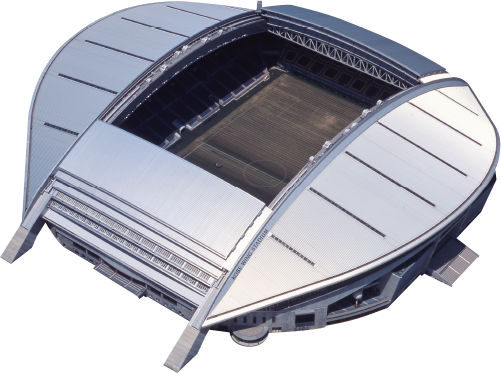 Noevir Stadium Kobe
Increasing the "Sports Population" Provides a Push for the Market
In 2019 Japan will host the 9th Rugby World Cup, and then the 2020 Tokyo Olympic and Paralympic Games. With such massive sporting events coming to Japan, there is a great demand for both new sports facilities and renovations of old ones. The Japanese government, with the goal of getting all of Japan into sports, established the Japan Sports Agency in 2015. With moves like this to increase interest in sports nationwide, train top athletes and get both children and adults to enjoy sports all over the country, there is a growing need to maintain our sports facilities, and this is providing a major push for our market.

Gelora Bung Karno Stadium
An audio system that conveys the impact and presence of the event no matter where you are in the stadium
Gelora Bung Karno Stadium, which can hold about 90,000 people, is the biggest stadium in Indonesia and one of the biggest in the world. TOA's excellent sound system, with Horn Array Speakers that use a new type of high-quality drivers, can project sound with a high degree of intelligibility to anywhere in this massive stadium.