Vol.4
Broadcasting system for the Fukui Prefectural Juvenile Science Museum, Angel Land Fukui
- Touch and feel sound! A fantastic experience with sound -
Broadcasting system for the Fukui Prefectural Juvenile Science Museum, Angel Land Fukui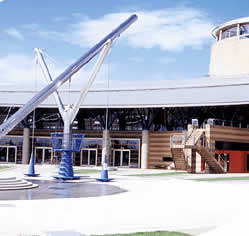 Sit down on a glittering chair and you can hear a merry sound from somewhere
Put your hands in a spot of light and you can play the harp.
Here, you can be friends with sound and light and even chase them,feeling their touch on your hands and feeling them through your body.
A profile of sound
Angel Land Fukui is an advanced educational facility for children that gives opportunities for fantastic experience.
It combines the functions of a juvenile care center and a science museum.
In "Fantasy Egg," a dome located in the central part of the facility, a program to show a fantastic world of sound and light is carried out to encourage the cultivation of children's aural and visual sensitivity through amusement.

(MP3 2,096KB)
Lying under a blue sky is a spacious lawn area dotted with peculiarly shaped playground equipment and buildings. Kids are romping around with smiles on their face. What a pleasant park it is! But it's not merely an amusement park but also a museum in which they can learn many things and develop their personality through a variety of joyful exposure programs.

The main building looks as if it were spreading its wings to hug the lawn area. It serves as a juvenile care center and science museum. A hat-like structure protruding from the main building's central part is the Fantasy Egg dome.
Designed after the image of an egg, the dome is a place for interactive sound and light programs.
Angel Land Fukui was opened this summer as a key juvenile care center in Fukui Prefecture. Every day during some while after the opening, it was visited by so many children on their school summer vacation that the building's air conditioner could not work effectively due to the fevered air.
The facility's popularity is due to the fact that visitors can "feel" the exhibits by touching, playing with or manipulating them directly. Of course, another strong magnet is the Fantasy Egg dome which presents a fantastic world of sound and light.

Let's take a look at a typical day in the dome. A lot of children and their parents gathering in the dome are waiting for a program to begin. One mother takes a seat on a glittering cylindrical chair, and is instantly addressed by mewing from somewhere.
Surprised at this, she attempts to take the seat again, and immediately a cry of "cock-a-doodle-doo" breaks out. Now her astonishment turns into a laughter, which spreads to the people around her. At a glance around, you will find similar scenes taking place along with various sounds such as sneezing and ringing phones.
A while later, the entrance to the dome is closed and today's program starts. The lighting is dimmed and spots of light appear here and there. If you put your hands in one of these spots, a sweet thrumming sound begins to reverberate through the dome.
The tune from the harp is so fantastic that it may seem that it is emanating from the heavens accompanied by a celestial light. Fascinated by the tune, children rush to put themselves in the spots. In this dreamy atmosphere, they feel as if they are dancing with light or playing music themselves. Thus it is not long before the dome is filled with harp sound and the children's smiles, turning into a stage for a happy music concert.
Fukui Prefectural Juvenile Science Museum, Angel Land Fukui
Opened at Harue-cho, Sakai-gun, Fukui Prefecture, in June 1999. The museum consists of a play area, an exhibition area, a planetarium, a panoramic movie theater "Space Theater," the Fantasy Egg dome for fantastic programs with sound and light, and so on. The exhibition area shows a variety of articles which help visitors experience and learn relationships of human beings with environments ranging from space for daily lives to the astrospace.
The museum's honorary director is Mr. MOHRI Mamoru, an astronaut who made space flight according to the NASA's program.
Equipment delivered:
- Emergency PA systems for the whole facility
- Sound system for the interior of the Fantasy Egg dome
In addition to the program "Gaia Odyssey," the repertoire includes interactive shows such as "Light and Tag" (a game using light and sound) and "Harp Harmonia" (harp performance with visitors' hands in spotlights). The music for the "Gaia Odyssey" is composed by Yuji Nomi, who did the sound arrangement and orchestration for the movie "Last Emperor."
What's new